3. Direct investments
Under the new Development Strategy, "Samruk-Kazyna" JSC invests in new initiatives together with strategic investors that have experience and technologies for joint financing and implementation of the project. Establishing integrated businesses in partnership with leading companies enables Samruk-Kazyna to diversify the portfolio and create new companies that will drive the structural transformation of the national economy.
Investment Sectors
Investment mechanisms for the cooperation with "Samruk-Kazyna" JSC
"Samruk-Kazyna" JSC is actively engaged in attracting FDI in Kazakhstan through mutually beneficial investment structures. In particular, there are two schemes of the potential partnership: co-investment and investment through Samruk-Kazyna's private equity funds.
Структура участия в проекте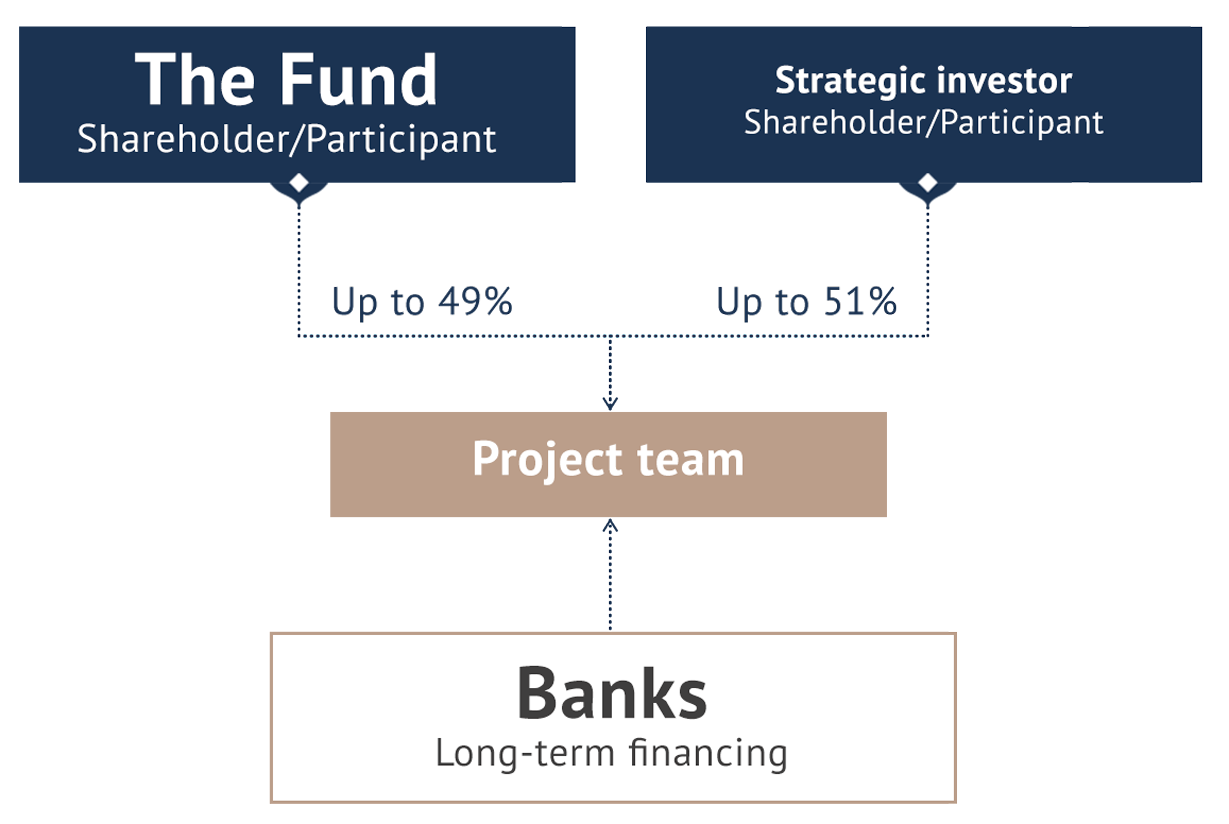 Целевые инвестиционные показатели
IRR > CoE, NPV>0
Целевая структура капитала
Доля Фонда в капитале проекта менее 50%
Пример структуры финансирования проекта:
| Источники | $ млн | Доля |
| --- | --- | --- |
| Собственные средства: | 60 | 30% |
| Фонд | 29 | 49% |
| Стратегический партнер | 31 | 51% |
| Заемные средства | 140 | 70% |
| Общая стоимость | 200 | 100% |
Требования к партнеру по проекту
В проекте должен присутствовать сильный финансово-устойчивый стратегический партнер, который обладает необходимым опытом и технологиями для совместной реализации и финансирования инвестиционного проекта.
Период участия Фонда
Долгосрочный подход (5-7 лет и более), в зависимости от потенциала к повышению стоимости.
Стратегия выхода Фонда
Выход из проекта путем продажи доли стратегическому партнеру, финансовому инвестору или IPO.
Ограничения при выборе инвестиций
Стартап компании
Венчурное финансирование
Нефтегазовая отрасль, в части разведки и добычи
Контакты
Директор Департамента по инвестициям
Абильмажинов Сакен Маратович, рабочий номер 8 (7172) 55 4072

Руководитель Сектора по поиску проектов
Курманбаев Сакен Сарыбаевич, рабочий номер 8 (7172) 55 4046

Старший менеджер
Балахметова Адия, рабочий номер 8 (7172) 55 4353

Старший менеджер
Кабиров Асхат Ахатұлы, рабочий номер 8 (7172) 55 2651

Старший менеджер
Орманбетова Гульнур Ашубасаровна, рабочий номер 8 (7172) 55 2708